Meet The Founder
Great Day My Beautiful Sisters,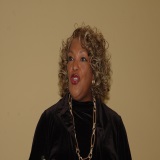 This is the Day that the Lord has made and we choose to rejoice in the Lord Jesus Christ for He will not fail us and His grace is sufficient. "For I know the plans I have for you", says the Lord. "They are plans for good and not for disaster, to give you a future and a hope." Jeremiah 29:11. It is a definite plan of God that you are here at this time in your life. This journey called life comes with many choices, challenges and victories. As you lock arms with other Sisters here at Anointed for Victory Ministries, you will be encouraged to know that "no weapon formed against you shall prosper" because, "God is a very present help in time of trouble".
My journey is similar to that of the woman with the issue of blood. I was diagnosed with Sarcoidosis, an incurable autoimmune disease… and every doctor I went to said, "I can't treat you … I can't help you". As The sarcoid lesions invaded and took over my body, consuming many major organs, and leaving disfiguring facial and body marks, and hearing the replay, "There is no treatment or cure", for this body destroying disease; I didn't know if I would awaken to see the next morning sunrise. Out of my desperation for help and healing, I cried out to God, "The Healer", "God, if you don't heal me I am going to die!" Praise be to Jehovah Rapha, he heard me, my cry reached his ears.
On November 3, 2000, God awakened me at 3 AM and said, "Vera, Pray for My people". From that mandate, the Anointed for Victory Prayer Line was birthed, and now 17 years later it has evolved into an outreach ministry, where lives are being changed, hurts are being healed and hope is being restored. This Ministry spans throughout the United States and into parts of Africa. As a result of my obedience to Almighty God, He supernaturally healed me, and to this day, I am completely healed by the power of God.
Yes, I am a Sister, Servant Leader, Visionary, Evangelist, Teacher, and Christ Ambassador, boasting on Jesus. I am committed to equipping and encouraging women, in all walks of life, to become overcomers. My Sisters, as you rely daily on the empowerment of the Holy Spirit to live victorious lives through prayer, faith and using the infallible Word of God as your armor in every trial, you will be an Overcomer on this journey called life. You WIN!
You are anointed for victory,
Evangelist Vera Robinson
Founder, Anointed For Victory Ministries